sew a leather skirt
Sew a stunning leather skirt that fits and flatters using specialised techniques adapted for your own home sewing machine. A leather skirt doesn't have to be skin-tight and a range of designs will work with this material. Faux leather has also come a long way (since the days of "pleather").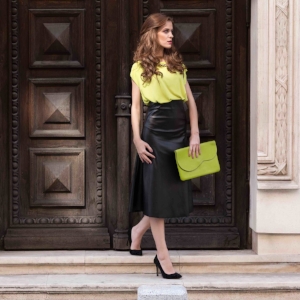 Skill Level: Intermediate
This course suits intermediate sewers. There's a maximum of eight students per teacher, so you'll receive individual attention and progress at your own pace.
Classes & Cost
Classes run for 5 sessions (3.5 hours per week) for 5 weeks.
$385 / 17.5 hours of tuition
Any 5 weeks during a term.
Enrolment
This class is open to everyone: home sewers, hobbyists and professionals. It's also available as part of the Professional Program or HSC Textiles Program.
sew a leather skirt Course Details
Sew a stunning leather skirt using specialised leather sewing techniques that you can use on your home sewing machine. Students bring a straight skirt calico test garment ("toile") to class made from a commercial pattern. The toile is fitted and the pattern adapted for use with leather. The skirt layout is planned, the skirt is cut and sewn using techniques which may include top stitched seams, glued seam allowance and hems, the application of rivets and the insertion of linings.
On enrolment students receive information concerning suitable patterns. Equipment requirements and leather will be discussed in the first lesson. Students should buy the leather for their project after the first lesson.
Students may also draft a personalised straight skirt pattern in class, but should allow more time than one course to finish the skirt.
What You'll Learn
This course includes:
Review equipment and techniques used in sewing leather

Receive a personal fitting of the skirt toile by our qualified design staff and refine the pattern for personal fit

Plan the layout, cutting and sewing of the skirt

Plan the vent or kick pleat as applicable

Mark fabrics and cut out skirt

Complete an exposed, lapped or invisible zip

Sewing the skirt

Students may continue with the course after completion of the skirt to complete a cameo top in leather.
More Information
Please feel free to email or call us on 02 9449 1450 and we'd be happy to provide more information or tailor a program for you.
Feeling Social?
There's nothing we love more than to see our students work in progress or finished creations!