hat making
Are you a hat person? The truth is that almost everyone is - it's just a matter of finding the right pattern, with the right brim, to frame your face. It's also a great way to use treasured remnants from your stash and let your imagination run wild with decorative trims.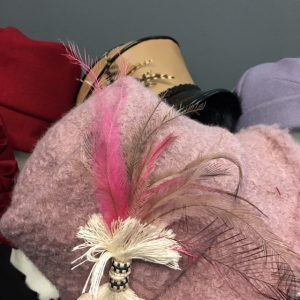 Skill Level: All
A basic hat pattern with multiple brim options will be provided at the beginning of the class. You'll be able to choose a style that suits your own taste and the shape of your head. There's a maximum of eight students for this workshop, so Kazue will be able to provide individual attention to each student.
Classes & Cost
7.5 hours tuition / $175
Next class
Sunday 4 November, 2018
9.30 am - 5.00 pm
Enrolment
This class is open to everyone: home sewers, hobbyists and professionals. It's also available as part of the Professional Program or HSC Textiles Program.
hat making course details
Join the talented Kazue Kawauchi and learn to make a bespoke hat using fabrics and trims of your choice. Kazue will share examples of different kinds of hat bands and then the fun really begins. Let your creativity run wild and trim your hat to create a one-off piece that will be uniquely yours.
What are the best fabrics for this type of hat?
Firm heavy weight wools and woven materials are ideal choices for this hat. You won't need a great deal of fabric, so this is a perfect way to put your remnants to good use. If you need help or advice in choosing a fabric or purchasing trims, please feel free to contact us. More detailed instructions will be emailed to you upon enrolment.
About Kazue Kawauchi
Kazue is an experienced pattern maker and dressmaker who is passionate about spreading the joy of sewing. She is adept at taking designs from concept to garment for couture gowns, commercial dressmaking and costume design. Early in her career Kazue was a machinist producing garments for high-end Australian labels and she has also run her own business designing and creating accessories for the home and children's sewn toys. Her career has included extensive work with stretch fabrics to create and embellish outstanding creative designs for stage, dance and theatre work
For more information on this course, please contact us.
More Information
Please feel free to email or call us on 02 9449 1450 and we'd be happy to provide more information or tailor a program for you.
Feeling Social?
There's nothing we love more than to see our students work in progress or finished creations!