evening & Bridal wear: Flat patterns
The course is designed for designers, dressmakers and home sewers who want to make complex garments using flat pattern making.
Skill Level:
Students are required to have knowledge of both pattern making and sewing techniques to complete this course. It is at an advanced level. The prerequisite for the course is Module 1 of the pattern making course together with the draped pattern making and garment construction course. Similar commercial experience is also accepted.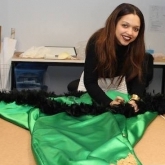 Classes & Cost
11 weeks / 38.5 hours tuition / $825
11 weeks / 77 hours tuition / $1,595
It may take students more than one term to complete this course.
Class times are flexible: you can choose from weekday mornings, afternoons or evenings. Some Saturday classes are also available.
Mid-term enrolments are often possible. Please contact us and we'll do our best to fit you in.
For students enrolled in the professional program, longer classes or multiple courses, discounts may apply.
enrolment
This is an advanced class and is open to home sewers, hobbyists and professionals with pattern making and sewing experience. It's also available as part of the Professional Program Program.
evening & bridal wear: flat patterns Course Details
The course teaches how to plan and execute a complex garment from pattern making to construction and includes the use of underpinnings, linings and interlinings. The course includes advanced techiques that are not easily achieved using flat pattern making techniques.The European method of pattern draping is taught.
The Couture Embroidery course taken in conjunction with this course is recommended for those wanting to produce custom made evening and bridal attire.
What You''ll Learn
Overview of construction processes used in evening wear design that need to be planned when draping garments
The optimal combination of draped and flat pattern making techniques to achieve garment design
Underpinnings and support garments used to drape evening wear
Design preparation, seam and pattern construction planning for finishes
Sample of draped techniques to achieve a cascade drape, a sunray pleated drape, a gathered drape, a bandage drape, knots and twists and a straight grain drape
Draping to create a strapless design or corset
Creation of samples of finished evening wear using couture construction methods.
More Information
Please feel free to email or call us on 02 9449 1450 and we'd be happy to provide more information or tailor a program for you.
Feeling Social?
There's nothing we love more than to see our students work in progress or finished creations!