personal dress form
Create a custom dress form that mirrors your body shape. Used in the world's most exclusive couture houses, it will take your sewing to the next level. Many sewers find they lose confidence as their body changes, or if they have particular fit issues – big hips anyone? None of us is perfect, so let's embrace our bodies as they are now – and get sewing and make fabulous clothes that make us feel great!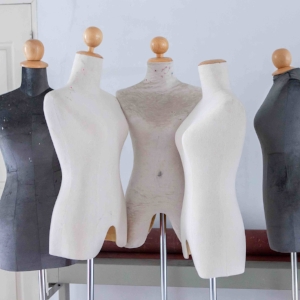 Skill Level: Intermediate
This course suits intermediate sewers. There's a maximum of eight students per session, so you'll receive individual attention and progress at your own pace.
Classes & Cost
11 weeks / 38.5 hours tuition / $825
Class times are flexible: you can choose from weekday mornings, afternoons or evenings. Some Saturday classes are also available.
Mid-term enrolments are often possible. Please contact us and we'll do our best to fit you in.
For students enrolled in the professional program, longer classes or multiple courses, discounts may apply.
Enrolment
This class is open to everyone: home sewers, hobbyists and professionals. It's also available as part of the Professional Program or HSC Textiles Program.
personal dress form Course Details
This course is designed for home sewers and dressmakers who would like a dress form that conforms to their measurements and body type. A calico bodice is made that is fitted to the student so that they can pad a dress form to conform to their measurements. A purchased dress form is used and either a purchased padding kit, available from the college, or wadding is used to make the dress form conform to the calico bodice.
Guidelines for centre back, centre front and the waist are then added to assist with fitting. This produces a dress form similar to those used in couture houses for their clients. A pattern is also provided, and if time permits, the student can make soft arms for their dress form so they can assess the fit of garments with sleeves. The time taken to pad a dummy varies considerably depending on how different the dress form measurements are to those of the student.
What You Will Learn
This course includes:
Pattern drafting of a bodice pattern for each student

Making a calico sample of the bodice

Contouring the bodice sample to fit the student and adjusting the pattern

Assessing the dress form and formulating the best strategy to achieve the padded form

Using a kit or wadding to increase the measurement of the dress form

Covering the dress form with a compression layer made to the bodice draft

Covering the dress form with a calico layer made to the bodice draft

Attaching guidelines for fitting to the dress form

Cutting out and sewing the arm pattern.
More Information
Please feel free to email or call us on 02 9449 1450 and we'd be happy to provide more information or tailor a program for you.
Feeling Social?
There's nothing we love more than to see our students work in progress or finished creations!