tailored jacket
When you see someone wearing a perfectly tailored jacket, you'll take notice! This is an advanced course designed for the professional or home sewer who wants to produce professional-looking tailored jacket (women or mens), using the tried and true traditional methods.
Skill Level: Advanced
Sew a classic notched collar or shawl collar jacket using hand worked canvas interlining, machine finished canvas or fused interlining techniques. A combination of techniques may also be chosen depending on the fabric and jacket design.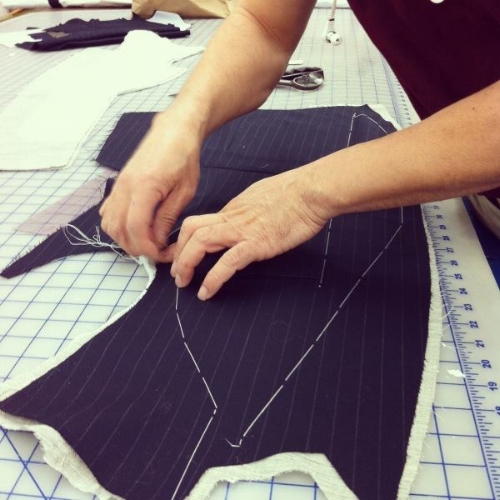 Classes & Cost
11 weeks / 38.5 hours tuition / $825
Class times are flexible: you can choose from weekday mornings, afternoons or evenings. Some Saturday classes are also available.
Mid-term enrolments are often possible. Please contact us and we'll do our best to fit you in.
For students enrolled in the professional program, longer classes or multiple courses, discounts may apply.


Enrolment
This class is open to everyone: home sewers, hobbyists and professionals. It's also available as part of the Professional Program or HSC Textiles Program.
What You'll Learn
You'll be asked to bring a jacket calico test garment ( a "toile") to class made from a commercial pattern. The toile is fitted and the pattern adapted for use with the desired interlinings, linings and trims. There's no need to complete pockets or lining on the toile, as those details are completed later on the finished garment. Tailoring uses a large number of steps and to aid the student a reference book is recommended and followed in class.
On enrolment, you'll receive information about reference books, suitable patterns and where to source suitable materials. Fine wool, cotton, linen and hemp fabrics are available for order from the college and these options will be made available to you during the first session.
You may return for a second or further terms if you don't finish your jacket in your first class or you'd like to complete a matching skirt or pants. Students who prefer hand finishes or choose not to complete any work at home should allow more than one term to complete their project.
tailored jacket Course Details
Analysis of the features of a well fitting jacket

Discussion concerning the technical aspects of interlining techniques and finishes used when constructing a jacket

Plan the students particular design project

Review material sources and order material through the school if desired

Receive a personal fitting of the jacket toile by our qualified design staff and refine the pattern for personal fit

Assess the fabric and backing fabrics and plan the layout, cutting and sewing of the jacket fabric, interlinings, and linings as applicable

Mark fabrics, match patterns as appropriate and cut out jacket

Underline jacket or complete canvases

Sew pocket finishes

Sew jacket to fitting stage and refit the garment

Set and fit sleeves

Sew buttonholes

Create and attach trims
More Information
Please feel free to email or call us on 02 9449 1450 and we'd be happy to provide more information or tailor a program for you.
feeling social?
There's nothing we love more than to see our students work in progress or finished creations!