draped pattern making
Learn to make simple or more complex garments using the European method of draping. It's all about the fabric. What does it want to do? What can you do with it? Using a dress form taped at key design points (such as the waist, bust and centre front), fabric is draped across a model to produce a pattern with the precision of a flat pattern whilst enabling you to better judge the final fit and proportion of your garment.
Skill Level: Intermediate
Basic pattern making skills are required for students enrolling in this class. We recommend module 1 of our course: Pattern Making & Garment Construction.
Classes & Cost
11 weeks / 38.5 hours tuition / $825
11 weeks / 77 hours tuition / $1,595
Class times are flexible: you can choose from weekday mornings, afternoons or evenings. Some Saturday classes are also available.
Mid-term enrolments are often possible. Please contact us and we'll do our best to fit you in.
For students enrolled in the professional program, longer classes or multiple courses, discounts may apply.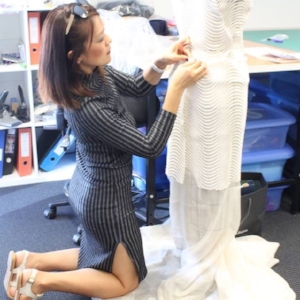 Enrolment
This class is open to everyone: home sewers, hobbyists and professionals. It's also available as part of the Professional Program or HSC Textiles Program.
draped pattern making Course Details
This course is designed for designers, dressmakers and home sewers who want to make basic and complex garments using draped pattern making.
The European method of pattern draping is taught. The dress form is taped at important design points like the waist, bust and centre front and then fabric is draped on the form to produce a pattern with the precision of a flat pattern while enabling the designer to better judge fit and proportion. This is an advanced pattern making technique and a working knowledge of flat pattern making is required for entry into this course. Students may complete basic blocks in class to refresh their pattern making skills.
This course may cover draping Jackets if the student has flat pattern making skills in that area. This course is a prerequisite for studying the course, Draped Pattern Making and Construction For Eveningwear and Bridal Wear.
What You'll Learn
Taping the dress form
Completing soft arms for fitting of garments with sleeves
Padding a dress form to individual measurements if required
Design preparation, seam and pattern construction planning
Preparation of the dress form for draping
Fabric preparation for draping
Draping techniques, marking drapes, enlarging and adding seam allowances
Verifying and completing draped patterns
Sampling garments draped using couture and luxury ready to wear construction techniques
Patterns draped may include basic blocks, skirts, tops, dresses, strapless garments, casual coats and jackets.
More Information
Please feel free to email or call us on 02 9449 1450 and we'd be happy to provide more information or tailor a program for you.
Feeling Social?
There's nothing we love more than to see our students work in progress or finished creations!